報道剪影
【SCMP】Why CityU must rethink its decision to scrap part-time social work degree course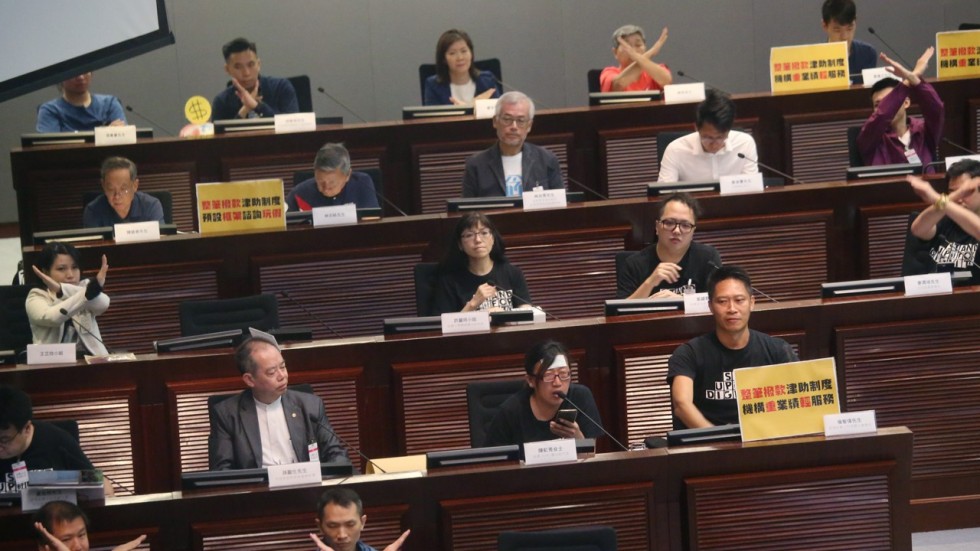 Social workers speak up for the community at a Legislative Council panel meeting on welfare services, at the government headquarters in Admiralty on May 14. Photo: David Wong
City University has announced that it will soon suspend its part-time bachelor of social work degree programme. This has led to serious concerns that registered social workers with only sub-degree qualifications will have fewer opportunities for further study.
The move has already been criticised for aiming to promote CityU's ranking and profitmaking. In recent years, CityU has started a full-time Master of Social Work programme. This programme has attracted non-local students, including graduates from well-known universities in mainland China. This can help CityU promote its world ranking.
But does this mean it is more important for CityU to attract non-local students than to train Hong Kong's front-line registered social workers holding only a sub-degree? Shouldn't the original mission of institutions be to train locally registered sub-degree holders to get a degree, to serve society more effectively?
Professor Lo T. Wing, head of applied social sciences, has said: "The regulations of the Social Workers Registration Board on course accreditation are unreasonable. The teacher/student ratio is 1:15 and the teachers who teach the core subjects need to have at least five years front-line social work experience. It is difficult for CityU to employ sufficient qualified teachers."
However, the registration board's regulations on social work programmes have been in place since 1998. They are there to guarantee the quality of programmes. If CityU has been able to meet the regulations in the past, why is it finding it hard to fulfil them now?
We strongly disagree with CityU's decision to suspend the part-time bachelor's programme. When the government has highlighted the need to improve social workers' qualifications – for example, the proposed policy of "one primary school, one social worker" requires social workers to have a bachelor's degree – ironically, the path to pursue a bachelor's degree will be cut. It is a retrogressive move.
We urge all stakeholders, including the government, universities and institutions, to consider rebuilding the training ladder for those passionate registered social workers with sub-degrees who wish to upgrade themselves so they can further serve Hong Kong society.
Lun Chi Wai, president, Hong Kong Social Workers' General Union, Kowloon
Source: https://bit.ly/2KU6jky